We chose to travel Australia this year for many reasons. One of those reasons was to create spaciousness to finish my book. I'm on task!
Check out my desk! It's in the same room as the rest of my house! Yep, i write in my bedroom, the kids room, our kitchen, dining, lounge and everything else room. This is caravan living. Four of us in close confines. Mostly is amazing. Travel is amazing. Except when it's not. Shitty days happen wherever you are on this planet. And in a caravan there is nowhere to hide.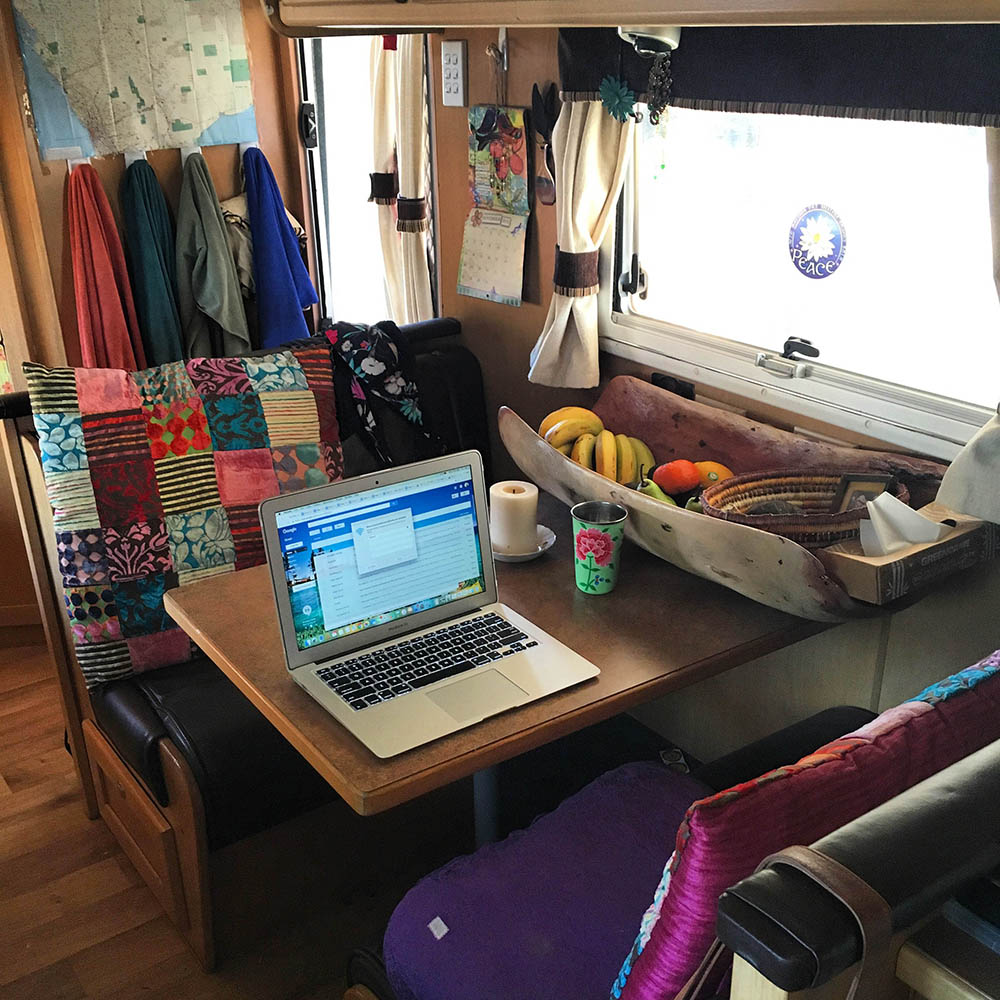 It looks beautiful right now. See? That's because it's Monday morning and i've reclaimed some space for my very own. That's my laptop, learning to use a mac has been nothing short of the richness! Slowly, steadily, as with most change we are making friends.
Can you see the purple meditation cushion, that's the writing side of the table. See the other side, i slide around there when i need to edit things. The writing side is by far more comfortable for me. Life flows through me and I love the surprise of what comes out. The editing side is not as fun. Editing for me is a total brain melt. Shitty bits are part of every job, even the ones you entirely love. As for editing, we are at least looking at each other with the consideration of making friends. My editor is a saint. A miracle worker. I bow to her! I pray she goes no where any time soon!
This book is drawing closer to completion. I will be done at the end of the month. Pre-orders will begin in December because we all need some support and inspiration at the start of each new year, or in the least i know i do. Printing is a whole other world i know nothing about. Lucky I don't have to manage everything! I believe it will be released in March, stay tuned.
Right now I am immersed in this labour of love. If you have a spare moment please send a little thought my way. When it arrives I will snuggle that energy close to my heart and in some way your kindness will flow out of me into the book.
Excited much.
Thankful beyond measure.
Scared? Of course! I'm showing up anyway.
Big love to each of you, please remember to be kind to you. You are precious in my world xo