Meet Clare. This is the beautiful woman I share my mothering role with. In our house we lovingly call her our other mother. We have both written this blog together with the intention of supporting other blended families to have faith and courage while navigating the richness that is Blended Bliss.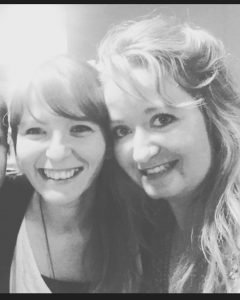 Read on and gain insight into our hearts and the daily choices we face to show up real for the benefit of others, especially when we are afraid.
Kate's words:
Our family is a blended one. When Rob and I got together I had already birthed my precious firstborn, it was the three of us right from the start. It must have been hard for him? To be honest I don't really understand the kind of love and courage step parents bring. I've never been in that position, I can only imagine it's richer and more challenging than I'll ever truly fathom or comprehend.
In my life I am blessed with the honour of watching two phenomenal humans step parent their way to divinity. I look on with awe, deep gratitude and often bewilderment with how they manage to navigate the complexities of our lives with such grace, kindness and willing hearts. Pearl's biological dad is the same. His kindness, patience and compassion are a gift to all that know him.
Is it easy? Of course not. Do we all get scared? I'm guessing absolutely, I know I do. Are we stretched beyond any known comfort zone? Entirely. And alongside all this richness we all show up real, communicate to the best of our ability and do our unending inner work, the kind required to navigate any relationship, regardless of its makeup.
Rob is my husband, Pearl's stepdad and father to Freya my precious second born. When we got together he made a very clear intention of doing all he could to support Pearls relationship with her dad. He often shares that while he can never offer her what Danny can, his willingness to love and support her is unending. He has done everything in his ability to care, support, provide and love her, as does her dad. Pearl often tells people "I have two dads, one's a Christian, one's a Buddhist, and I'm not either". It's a grand stunning conversation starter with grown ups (and highly entertaining to witness as an inconspicuous bystander).
The truth is I was petrified when Danny and I separated. I didn't know how I would ever be able to hand my child over to another woman. I spent a lot of time praying and leaning into my heart about who he may choose to re-partner with. In my scared moments I would remind myself of his truest heart, his kindness and that there was some divine order in this great colossal mess. Other times I would just cry and feel broken, afraid, responsible for ruining my daughters life. I had a lot to let go of. I prayed hard for a kind heartful woman. I prayed hard for wisdom to know the way.
The day I met Clare I new my prayers had been answered. My first thoughts about her were "I could be friends with this woman", I really liked her. Apart from her great taste in fashion (she was wearing the same green dress I had) she was kind and clear and open. She showed up. She made the effort to meet me and actually share her vulnerability. I decided right then this blended family thing could work.
I thought about how much courage she must have to love a man who already had a child and I decided that it was time to trust. I was way out of my depth. Trust was my only option.
I'm not sure how she navigated the richness of it all to show up real, yet she did, time and time again. I think the day I really realised she was my child's other mother was the day she called me to see if it was ok to take Pearl to church. For the first time I truly understood the beauty of her heart. And the gift I had received in mothering alongside her. I was no longer alone, I had a strong, faithful woman showing up with such deep respect that I no longer had to fear for my child. It broke my heart open again to realise I don't carry the responsibility alone. We share the role. The little woman, the daughter we share is growing more beautiful and diverse and understanding because of us. She has two faith filled passionate powerful women guiding her to listen, reflect and grow her own way. She has shade trees to rest under. She is ok. More than ok. She is thriving. I imagine one day we will all stand together as women, equals, silently resting into the rich beautiful tapestry that is life.
Clare and I have spoken about writing a book together. A book sharing our inner hearts and challenges and how we navigate this rich arena of life. I kind of imagine it like a map for fellow travellers. And even though we are all travelling in slightly different directions I'm pretty sure we are all carrying luggage of some kind. Clare came up with the idea of calling it Blended Bliss. I think it's a great title and an opportunity for us to expand and share our definition of Bliss. Not just surviving blended families, actually thriving and growing in our capacity to forgive, love and serve.
You see sometimes we whittle bliss down to some neatly packaged euphoric state of sublime divinity. And we get the idea that life is supposed to look this way, neat and shiny, unendingly. Or scarier still we get the idea that blended families are meant to be hell, hard and full of suffering. The truth is our experience is so much more than either of these. You see Blended Bliss is the whole shebang. It's not either/or, its everything and more. And with permission to get real and honest and connected to big picture long term intentions I believe any family, blended or not can navigate their way to wholesome connection and purpose.
Stay tuned. We are dreaming on how to contribute our experiences. Remember you are not alone and while your family will look different to ours, when we show up with open vulnerable hearts, we bring peace where there could be war. We change the world.
Clare's Words:
In the beginning little did I know…… that one of the biggest lessons in life was just about to hit me.
I used to pray for my future husband, praying for the typical things, like a man of God, intelligent, funny and creative. I'm thankful I got all of those things. Dan would often say that God doesn't always give you what you want, but what you need.
When I first met Dan, he told me pretty early on that he had a daughter from another relationship, I was surprised but went with it, little did I know what that really meant. In the haze of starting a new relationship, I almost took the information in like other stats, like how many brothers and sisters he had.
Dan had such passion for his daughter and it was so beautiful to see how much he loved her.
The first time I met Pearl…..
The week before, Dan had been saying to come along to a family dinner. I would get to meet his whole family and daughter for the first time, we had been dating for about 3 months. All week he had been saying to come along and when he cancelled the next day, I could tell he was nervous. I was nervous too.
I was brought up in the Methodist church, always volunteering and helping out in kids clubs. Children would often flock to me and therefore I felt pretty confident that Dan's daughter and I would get along.
When this beautiful little soul was introduced to me, she looked at me with concern and weariness, hugging Dan's leg. I thought, it's daunting for a child to meet new people, it will change, or so I thought. This continued for the next year, my heart was broken.
This is where your vulnerability kicks in. On your journey as a step mother you present your love, you hope for acceptance, but you are not guaranteed an outcome. Rejection comes often.
It's a matter of always offering your love, open hearted and open handed. There is a fearful part of me that wants self preservation, wants to guard my heart but the other part of me knows I just need to keep giving my love to Pearl.
Meeting Katie and Rob I was so nervous, I thought about how hard it must be for Katie, leaving your child into the care of others, especially with me and what I represented as 'the other mother' but Katie spoke with such gentleness and this allowed our vulnerabilities and insecurities to breathe. I felt truly comfortable. I am sure this wasn't easy for Katie of which I am truly grateful.
Being a step mother is the hardest thing I have ever done. It leaves me raw and exposed in ways I have never felt before. And in this, there is also true beauty and a refiners fire. A beautiful life doesn't come without cost.
In closing, together we offer these words:
When women support women and families support families, miracles happen. Stay brave people, together we've got this.
With love and kindness
Clare and Kate xo